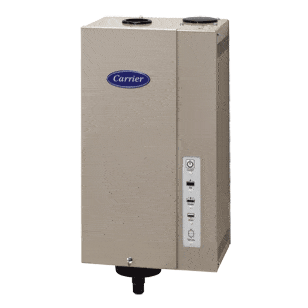 The process of maintaining proper indoor humidity is one of the most important aspects of total home comfort, yet it's one of the most ignored.  Most people identify humidity with hot, sticky weather and moisture damage.  There is, however, the very real possibility of inadequate humidity and the associated concerns.  Steam, fan-powered, and bypass whole home humidifiers are a flexible, efficient and low-maintenance means of achieving not only complete comfort but healthy Indoor Air Quality. The Heat Engineering Co. specialists have the experience and knowledge to make helpful and economical recommendations to protect your home, health and family.
When you call The Heat Engineering Co. for indoor climate concerns, our licensed technicians address the problem quickly, striving to bring about the most cost-effective resolution with minimal disruption to your schedule and property.   The team from The Heat Engineering Co. will keep a tidy jobsite, clean up any discarded packaging, and make absolutely certain your are 100% satisfied with the results of your investment.  Family owned and operated, The Heat Engineering Co. recognizes and answers the need for air treatment at fair prices, and has provided effective and satisfying results to home and business owners throughout Countryside, Burr Ridge, Hinsdale, Western Springs, La Grange, Indian Head Park, La Grange Park and Brookfield, IL for over sixty years.
Humidifier Installation
Installed directly into your central heating and cooling system, humidifiers precisely adjust moistures levels throughout your entire home, minimizing the ill effects of dry air and allowing satisfying comfort at lower temperatures.  The relative humidity of cold, outdoor air drops significantly when drawn into your home and heated.  Inadequate humidity raises energy costs, making you feel colder at normal temperatures, and leading to higher thermostat settings.  Properly hydrated air slows the body's natural cooling process, keeping you warmer without boosting the heat and taxing your budget.
Insufficient humidity can increase the likelihood of viruses that thrive in dry air; causing colds, flu and respiratory ailments.  In addition, dry air leaves you more susceptible to infection, and irritates allergy and asthma symptoms.  Effective, reliable and economical humidification reduces risk of bloody noses, dry mouth, itchy eyes, sore throat, and cracked itchy skin. A whole-home humidification system protects against airborne allergens, keeping a healthier, cleaner and fresher home environment for you and your family season after season.  Call The Heat Engineering Co. to learn more about the cost-savings, benefits and protection of a whole-home humidification system.  Installation is simple, convenient and rewarding.
Trust The Heat Engineering Co., Countryside, Burr Ridge, Hinsdale, Western Springs, La Grange, Indian Head Park, La Grange Park and Brookfield, IL's leading Humidifier Installation and Repair Company
Humidifier Installation & Humidifier Repair

La Grange Park, IL, Brookfield, IL, Burr Ridge, IL, Countryside, IL, Hinsdale, IL & La Grange, IL
Humidifier Repair La Grange, IL & Humidifier Installation Burr Ridge, IL
Humidifier Installation

∴

Humidifier Repair ∴ Hinsdale, IL ∴ Burr Ridge, IL ∴ Western Springs, IL