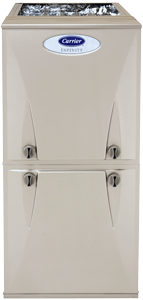 When winter hits the Countryside area, you can't get along without your furnace.  Dependable heat is critical for home comfort.  Efficient operation is essential to your budget.  Safe operation is a priority.  Living with anything less than a smoothly running heating system is a mistake.  Repairs don't solve themselves and tend to worsen without professional attention, putting your home and family at risk.  Call The Heat Engineering Co., and experience the rewards of prompt, knowledgeable and affordable solutions to all manner of heating malfunctions.  We'll make sure your home is warm, safe and completely comfortable without mess, inconvenience, and repeated service calls.
Our factory trained heating technicians can handle the challenge of heater repair, installation or maintenance, no matter how specialized or complex.  We work on all makes and models, but as a Carrier Factory Authorized Dealer, we rely on the durability and quality of Factory Authorized Parts to ensure the very best in system performance.  Whether your equipment is antiquated or on the cutting edge of the latest technology, our licensed specialists have the knowledge and product familiarity to answer the challenge.  Our team continues training, keeping up with the most sophisticated advancements, features and products on the market today.
Heating Repair & Furnace Repair in Countryside, Burr Ridge, Hinsdale, Western Springs, La Grange, Indian Head Park, La Grange Park and Brookfield, IL
Heating equipment can break down in the middle of the night, on a weekend or holiday, leaving you in desperate need of help.  For expert assistance whenever you need it, call The Heat Engineering Co..  We're available to deliver prompt, efficient and lasting solutions 24 hours a day.  When you contact us, you'll speak to a knowledgeable representative of our staff, and you can rest assured we'll focus our extensive resources on the resolution of your heating difficulty.  Through prompt, expert and ethical service, we ensure your complete satisfaction.
To further provide peace of mind, The Heat Engineering Co. is a Comfort24-7 Provider.  This guarantees you the highest level of service and workmanship, meeting your complete satisfaction, or your money back.  From start to finish, our technicians strive to exceed expectations.  By arriving on time, we minimize disruption to your schedule.  By keeping a clean and organized jobsite, we eliminate damage to your home and property.  Our dedicated professionals utilize foot and floor coverings, and retrieve any debris such as old equipment or packaging to be recycled.  At The Heat Engineering Co., we are fully licensed and insured, and our team is background checked and drug screened.
Local Furnace Repair in Countryside, IL and surrounding areas
Rest assured, when The Heat Engineering Co. is on the job, you are being taken care of by honest, experienced and dedicated industry professionals.  We have a reputation of over 65 years of dedicated service, and as a family owned and operated business, we are committed to finding new ways to improve service and overall satisfaction.  Don't stress over heating problems.  Don't wait to call for help.  You deserve to be warm and comfortable this winter.  Contact The Heat Engineering Co., and we'll protect your best interests.
Heating System Repair Contractor in Western Springs, IL | Furnace Repair Countryside, IL | Heating Repair Burr Ridge, IL
When is the last time you had your heater or furnace inspected? Even if there is no apparent problem with your heating system, providing annual maintenance is an extremely important part of keeping it working well with no incidents throughout the year. The Heat Engineering Co.'s professionally trained technicians know how to fix a malfunctioning furnace to ensure that you have heat when needed.
Signs You Should Call a Heating Contractor
Winter is cold enough without a broken heater. Keep yours well-maintained so that when freezing temperatures hit, you're safe and warm. If you experience any of the issues below, call The Heat Engineering Co. immediately to get the problem fixed as soon as possible.
Heater keeps shutting off at inappropriate times
Heater doesn't provide enough warmth
Utility bills are uncommonly expensive
There is too much humidity or dust
Furnace never shuts off
Heater gives off strange smells
Heater emits weird noises
Gas burner flame is yellow instead of blue
You detect a burning smell or gas
And more
It is especially important to call for service immediately if your gas burner flame is yellow, since that might mean you have a carbon monoxide leak.
What is a Heating System's Lifespan?
Heating systems generally last from 10 to 15 years. If yours is older than that, you might want to consider installing a new energy-efficient unit. While the installation costs might seem daunting, the high quality systems The Heat Engineering Co. supplies will end up saving you significant amounts of money on your monthly utility bills. The money you save will soon surpass any initial setup costs.
Annual Heater Maintenance Can Save You Money
Don't wait until your heater needs repair to schedule an appointment. Proper regular maintenance is crucial so that your heating system can function to the best of its ability. It's important to provide your heating system with annual maintenance so that it doesn't end up necessitating costly replacement parts or repairs down the line. Service your heater in the fall before the weather gets cold to make sure it will keep you warm and cozy all winter long.
Contact The Heat Engineering Co. for a Free Consultation Today
The Heat Engineering Co. is the heating contractor you can trust for all of your installation, maintenance, and repair needs. We offer a free consultation for all residential and commercial properties. Each written estimate we provide is backed by a 100 percent satisfaction guarantee. We also provide payment plans customized to your specific needs. Call The Heat Engineering Co. to schedule a convenient time for one of our friendly, experienced specialists to solve your heating repair issue today.
---
Heating and Cooling Repair Company, Furnace Repair, Heating System Repair in Countryside, Burr Ridge, Hinsdale, Western Springs, La Grange, Indian Head Park, La Grange Park and Brookfield, IL
Furnace Repair, Heating Repair & Heating System Repair Contractor

Hinsdale, IL, Burr Ridge, IL, Brookfield, IL, La Grange Park, IL, La Grange, IL & Countryside, IL
Furnace Repair in La Grange, IL | Heating System Repair Contractor Hinsdale, IL | Heating Repair La Grange Park, IL
Heating System Repair Contractor

∴

Furnace Repair

∴

Heating Repair ∴ Burr Ridge, IL ∴ Western Springs, IL ∴ Hinsdale, IL