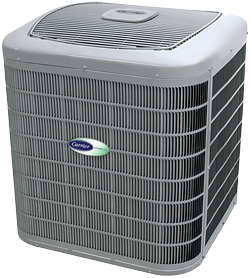 Living in the Countryside area, you know the summer heat and humidity can feel like a wet blanket, robbing you of a good night's sleep and relaxing weekends.  It's time to take control of your comfort and feel the difference of central air conditioning.  With advancements in compressor technology, fan-blade design, and two-stage operation, today's systems maximize power while minimizing energy costs and environmental impact.  You'll experience refreshing cool in every corner of your home, without the aggravating noise levels and high utility bills of only ten years ago.  This is the perfect time to invest in affordable luxury, and The Heat Engineering Co. has the resources, specialized training and experience to get the absolute most out of your cooling dollar.
Professional, Factory-Trained Air Conditioner Installation Throughout Countryside, Burr Ridge, Hinsdale, Western Springs, La Grange, Indian Head Park, La Grange Park and Brookfield, IL
When you call The Heat Engineering Co., our factory trained technicians will guide you through everything you need to know about selecting a cooling system for your exact needs.  We'll narrow choices to those that provide plenty of power to cover the space of your home effectively and efficiently.  By taking into consideration, not only square footage, but numerous factors that influence necessary cooling capacity, our comfort specialists will make informed recommendations to match budget, SEER expectations, and temperature control.   As a Carrier Factory Authorized Dealer, The Heat Engineering Co. offers a broad range of choices guaranteed to meet your approval.
Carrier innovations provide efficient comfort while minimizing environmental impact and energy costs.  For over one hundred years, Carrier has set the standard for reliable, powerful and economical cooling.  With an answer to the tightest installation space, humidity or cost concerns, there is a quiet, durable and meticulously designed system.  With up to 21 SEER, the Infinity Series is ENERGY STAR qualified in every size and handles dehumidification at a whisper quiet 65 decibels.  You can't go wrong with cooling from Carrier.
AC Installation Company in Countryside, Burr Ridge, Hinsdale, Western Springs, La Grange, Indian Head Park, La Grange Park and Brookfield, IL
To get the highest reward from your new cooling system, proper installation is a critical factor.  The team from The Heat Engineering Co. will see to all of the many details that maximize efficiency, convenience, and constancy of comfort.  By allowing enough installation space, continued maintenance, filter changes, and repairs are a snap.  Correctly matching the system to existing ductwork, as well as sealing and inspecting integrity, of ductwork, eliminates needless energy waste.  Careful location of the condensing unit assures necessary airflow and minimizes problems with operational noise.  We also make certain there are enough supply registers to deliver cool air and return registers to carry warm air back to the unit.  At the completion of the installation process, our dedicated specialists will clean up the work area, and retrieve any discarded equipment, packing and refrigerant to be recycled.  We will leave your home clean, undamaged and entirely comfortable.
Over the last 65 years, The Heat Engineering Co. has grown and expanded to encompass the heating and cooling needs of home and business owners throughout Countryside, Burr Ridge, Hinsdale, Western Springs, La Grange, Indian Head Park, La Grange Park and Brookfield, IL.  Despite our growing list of customers, we still maintain a family atmosphere and dedication to quality in every aspect of service.  Call us today, whether you need any type of heating or cooling system installed, maintained, or your home isn't comfortable for any reason.  Our 24/7 Emergency Service ensures complete peace of mind, day or night.  The Heat Engineering Co. brings comfort to your home.
---
AC Installation Service in La Grange Park, IL | Air Conditioner Replacement Western Springs, IL | Air Conditioning Installation Brookfield, IL
AC Installation Service, Air Conditioning Installation & Air Conditioner Replacement

La Grange Park, IL, Hinsdale, IL, Brookfield, IL, La Grange, IL, Countryside, IL & Burr Ridge, IL
AC Installation Service in La Grange Park, IL | Air Conditioning Installation Hinsdale, IL | Air Conditioner Replacement Western Springs, IL
AC Installation Service

∴

Air Conditioner Replacement

∴

Air Conditioning Installation ∴ La Grange Park, IL ∴ Hinsdale, IL ∴ Western Springs, IL