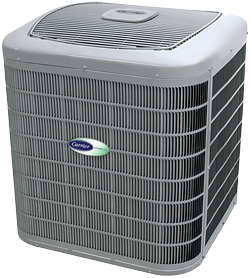 You probably didn't purchase air conditioning for your home on a whim.  You took the time to select and install a cooling system that exactly meets your expectations for comfort, humidity control, and energy efficiency.  Once you've made the investment, you expect your equipment to perform consistently year after year.  Your air conditioning can't meet your demands without professional service.  To protect your equipment, comfort, and budget, call the experts from The Heat Engineering Co..  Our factory trained technicians have the advanced tools, sophisticated training, and dedication to restore your comfort system to peak condition.
Air Conditioner Service in Countryside, IL and surrounding areas
Even if you conscientiously replace filters and clean exterior surfaces, the inner workings of your cooling equipment can hide some really nasty stuff.  During the off-season, when you're not thinking about your air conditioner, dirt, and debris, insects and animals are penetrating the cabinet.  If left to accumulate, lifespan, of the unit is shortened, energy efficiency reduced, wear and tear increased, and overall operational costs greatly inflated.
Air Conditioning Service Improves Indoor Air Quality!
Improperly maintained air conditioning units can lead to a build-up of allergens in the air, triggering respiratory tract infections, asthma attacks, and flu-like symptoms.  The effectiveness of your cooling system and quality of indoor air are directly linked to the maintenance of equipment.  Warmer temperatures and moisture within your air conditioner create the perfect environment for mold and mildew, also accelerating the decomposition of animal and plant matter.  Fungi, nasty bacteria, insects, and plant matter all lead to a loss of airflow, over-worked motors, higher operational costs and health problems.

Preventative maintenance is the best protection for your air conditioning system.Our NATE-certified technicians have proven their industry knowledge through a rigid set of core and specialty exams, ensuring technical competency.  They continue training in all areas of installation, maintenance, and service of heating equipment and receive regular updates specific to Carrier products. If your cooling system was installed by someone other than the The Heat Engineering Co. professionals, you may be needless sacrificing comfort and money.  By identifying and fixing installation problems, our conscientious specialists will ensure your A/C performs consistently and efficiently for fifteen to twenty years.
Contact The Heat Engineering Co. for AC Maintenance in Countryside, Burr Ridge, Hinsdale, Western Springs, La Grange, Indian Head Park, La Grange Park and Brookfield, IL
For over 65 years, The Heat Engineering Co. has safeguarded the comfort of home and business owners throughout Countryside, Burr Ridge, Hinsdale, Western Springs, La Grange, Indian Head Park, La Grange Park and Brookfield, IL.  As a family owned and operated business, we appreciate concerns for safety, efficiency and ideal comfort, and through dedicated service, maximize the value of your cooling dollar.  We offer maintenance plans to better serve your interest, taking care of seasonal upkeep, so there's never anything for you to worry about.  The Heat Engineering Co. is a Comfort24-7 Provider, giving the complete peace of mind of 100% satisfaction guaranteed.  To enjoy wonderfully cool comfort from your air conditioner, season after season, without the aggravation of repairs or needlessly high energy costs, call The Heat Engineering Co..  We take good care of your equipment and comfort.
---
Air Conditioner Maintenance, Air Conditioning Service & AC Service

Countryside, IL, La Grange, IL, Brookfield, IL, Burr Ridge, IL, Hinsdale, IL & Western Springs, IL
Air Conditioner Maintenance

∴

Air Conditioning Service

∴

AC Service ∴ Brookfield, IL ∴ La Grange Park, IL ∴ Burr Ridge, IL