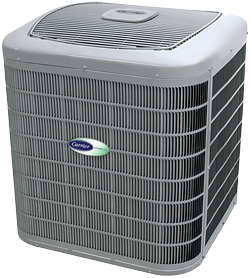 When something goes wrong with your air conditioning, it's usually at the worst possible time. Inconvenient, stressful, possibly even unsafe, air conditioning malfunctions are best handled quickly and by professionals, you can trust to protect your interests. As a family-owned and operated business, The Heat Engineering Co. has a reputation for quality work at fair prices, and after sixty-five years in the industry, we continue to protect our customers with conscientious service.
When you call The Heat Engineering Co., our dedicated team of technicians takes the hassle out of repair work. We arrive promptly, with the tools, components, and resources to handle a wide range of issues. From minor problems to complete system failure, The Heat Engineering Co. has the experience, knowledge, and commitment to deliver long-lasting solutions whenever you need them. Our licensed servicemen are available 24/7, providing emergency coverage to the Countryside area and throughout Countryside, Burr Ridge, Hinsdale, Western Springs, La Grange, Indian Head Park, La Grange Park and Brookfield, IL.
Trustworthy Air Conditioning Repair
At The Heat Engineering Co., there are never hidden costs or unpleasant surprises. Our licensed technicians provide information upfront, before we start work, and make recommendations for the most cost-effective solution. Whether repair or replacement is the most economical way to proceed, we complete all projects to your satisfaction and our Comfort24-7 Guarantee covers all of our work. From the moment we answer your call, we focus on your complete satisfaction. Our factory-trained technicians have the factory training to identify and resolve any difficulty you may experience with your cooling system, regardless of manufacturer or age of the unit.
AC Repair Company in Countryside, Burr Ridge, Hinsdale, Western Springs, La Grange, Indian Head Park, La Grange Park and Brookfield, IL
Serving residential and commercial needs with honest, dependable, and affordable solutions to the most challenging problems, The Heat Engineering Co. lives up to our goal of bringing excellence to each and every job. We are a Carrier Factory Authorized Dealer, a distinction reserved for a select few heating and cooling providers throughout the country, who exemplify service, quality, and sound business practices. Through conscientious and expert repair, we keep your equipment working at ideal efficiency levels, saving money on energy costs and potential malfunctions.
You may not pay much attention to your air conditioner during fall and winter, but as dust and debris collect within the inner workings, it can wreak havoc on performance. When summer rolls around, you count on your cooling equipment for refreshing comfort. Strange sounds, elevated operational noise, excess moisture, or spotty comfort are warning signs. A minor problem with one component places added stress on the entire unit, leading to further and more costly repairs.  Proactive measures start with a call to The Heat Engineering Co.. Our knowledgeable technicians isolate and solve specific component problems while troubleshooting for potential malfunctions. Through quality workmanship and meticulous service, we can restore your system's dependability, performance, and efficiency.
Contact The Heat Engineering Co. for AC Repair in Countryside!
As a family-owned and operated business, The Heat Engineering Co. takes pride in a job well done. Our team is licensed, fully insured and background checked, ensuring the highest level of professionalism. We arrive on time and maintain a clean and organized work area to prevent damage to your property. Contact The Heat Engineering Co. at (708) 246-3300 for cooling repair and speak to a helpful member of our team for the diligent service you deserve.
The hot months can be grueling without a fully functional air conditioner. The Heat Engineering Co.'s trained professionals provide affordable AC installation, repair, and upgrade services at times that are convenient for you. Don't wait until summer rolls around to discover that your air conditioner needs maintenance. Make sure your AC is in the best possible shape before oppressive weather hits by calling The Heat Engineering Co. for a free consultation today.
Signs Your Air Conditioner Needs Maintenance
Air conditioner refuses to turn on
Air conditioner keeps shutting off at inappropriate times
AC is emitting warm air
Flow of air is weak or nonexistent
Air smells strange
AC makes odd noises
Utility bills are abnormally expensive
Water or freon leaks from the AC
Thermostat won't adjust properly
AC often blows fuses
And more
As soon as you suspect an issue with your AC, call us for assistance. The faster a potential problem is addressed, the less money you may have to spend on repair, replacement parts, or future maintenance. If you hear a strange noise, smell an odd odor, or simply suspect that something is wrong with your air conditioning system, don't put off asking an experienced specialist to investigate.
Enjoy Cleaner Indoor Air Quality
The Heat Engineering Co.. offers an array of air conditioning services so you can enjoy cleaner, more comfortable air inside your home. Along with general assessments of indoor air quality, we can assist you with:
Humidity control systems
UV lamps
Air cleaners
Air purifiers
Air filters
Duct cleaning
Duct sealing
Ventilators
And more
<class="h4″>How Long is an Air Conditioner's Lifespan?>
A well-maintained air conditioner will usually last for about 10 to 15 years. If yours is older than that, it may be time to think about a replacement. The Heat Engineering Co. offers high-quality AC installation of the most energy-efficient models currently on the market. If air conditioners haven't been taken care of, some models may even need to be replaced prior to this timespan. Regardless, regular maintenance is a crucial aspect of your AC system's health. The Heat Engineering Co.'s professionally trained technicians are available for emergency and scheduled air conditioning repair services 24/7. Your comfort is our foremost concern.
Schedule an Air Conditioning Repair or Installation
Whether you need service for a residential or commercial property, call The Heat Engineering Co. today for a free consultation. All of our services come with a written estimate backed by a 100 percent guarantee. Rest assured with the knowledge that your AC system is in the hands of The Heat Engineering Co.'s experienced professionals.
---
Air Conditioning Repair Contractor, AC Repair Service, Air Conditioner Repair, HVAC Contractor in Countryside, Burr Ridge, Hinsdale, Western Springs, La Grange, Indian Head Park, La Grange Park and Brookfield, IL
Air Conditioning Repair, Air Conditioner Repair & AC Repair

Western Springs, IL, La Grange, IL, Burr Ridge, IL, Brookfield, IL, Countryside, IL & La Grange Park, IL
AC Repair in La Grange Park, IL | Air Conditioning Repair Western Springs, IL | Air Conditioner Repair Hinsdale, IL
Air Conditioner Repair

∴

AC Repair

∴

Air Conditioning Repair ∴ Western Springs, IL ∴ Countryside, IL ∴ Hinsdale, IL